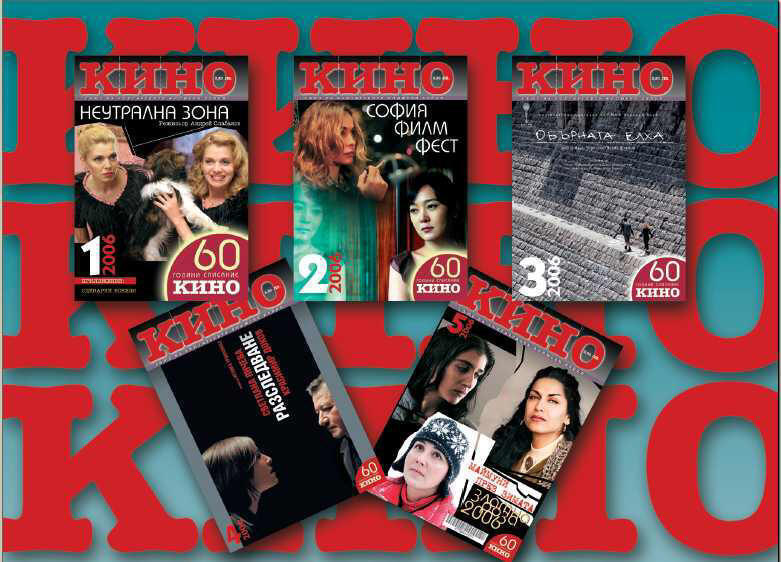 KINO MAGAZINE
published by The Union of Bulgarian Film Makers
The KINO (Cinema) magazine is a unique bimonthly issue for film culture and film theory in Bulgaria.
It is addressed to a certain target group of film art connoisseurs –
film professionals, cinemagoers, and very special peoples for whom cinema is not only amusement
but also an aesthetic experience, knowledge and self-understanding.
The KINO magazine is an authors' issue. Critics and film authors from all generations of Bulgarian cinematographic reflection publish theirs texts here. The team of editors relies on a range of professionals, who with talent and high skill analyze and rationalize the processes in the Bulgarian, European and world cinema.
The KINO magazine is a field for discussions and upholding of different points of view about the most important events and problems in the World of Cinema – the Bulgarian, European, and from the whole world. The obligatory condition in the activities of the editors' team is respect and tolerance to the opinion of authors, opponents and interlocutors. The sensation and yellow information are out of the magazine attention.
The magazine publishes scenarios and different scenario forms for feature, documental, animation and television cinema. The authors are popular and authoritative Bulgarian scenario writers and directors, but also young film professionals.
The KINO magazine defends the democratic and European values in the contemporary Bulgarian cinema-reflection – theoretical and creative - and also in the assessment of the world cinematographic process.
---
---
The KINO (Cinema) magazine is established in 1946 under the name "KINO and PHOTO" (Cinema and Photo) as a printed organ of the state owned Foundation 'Bulgarian Deed'. Since 1952 to 1955 it is named "KINO" magazine. Since 1955 to 1991 it is renamed to "KINOIZKUSTVO" (Cinema art). Since 1991 is recovered its current name "Kino".
* * *
Editorial Board:: prof. Alexander Grozev, prof. Bojidar Manov, prof. Venets Dimitrov, prof. Ivan Stefanov, ass. prof. Kalinka Stoynovska, Liudmila Dyakova – Editor in chief, prof. Stanislav Semerdjiev, prof. Svetoslav Ovcharov , Katerina Lambrinova
Design: Assia Kovanova, Rumen Barosov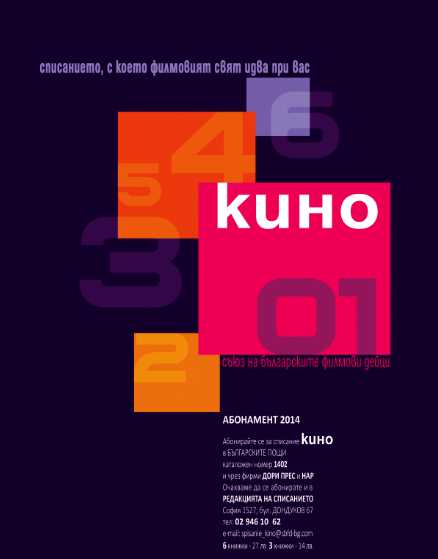 SUBSCRIPTION
Per year including packing and postage
60 EURO
Please contact the editors:
Sofia 1504, "Dondukov blvd. 67, tel..: (+359 2) 946 10 62; E-mail: This email address is being protected from spambots. You need JavaScript enabled to view it.